The Stott-Wallace Missionary Offering is the only way the Cumberland
Presbyterian Church supports Cumberland Presbyterian Missionaries. Your contribution goes to support their salary and benefits as missionaries. More information on this fund can be found online at: https://cpcmc.org. Please refer to the Letter on the next page from Lynn L. Thomas, Director of Global Missions for the Cumberland Presbyterian Church.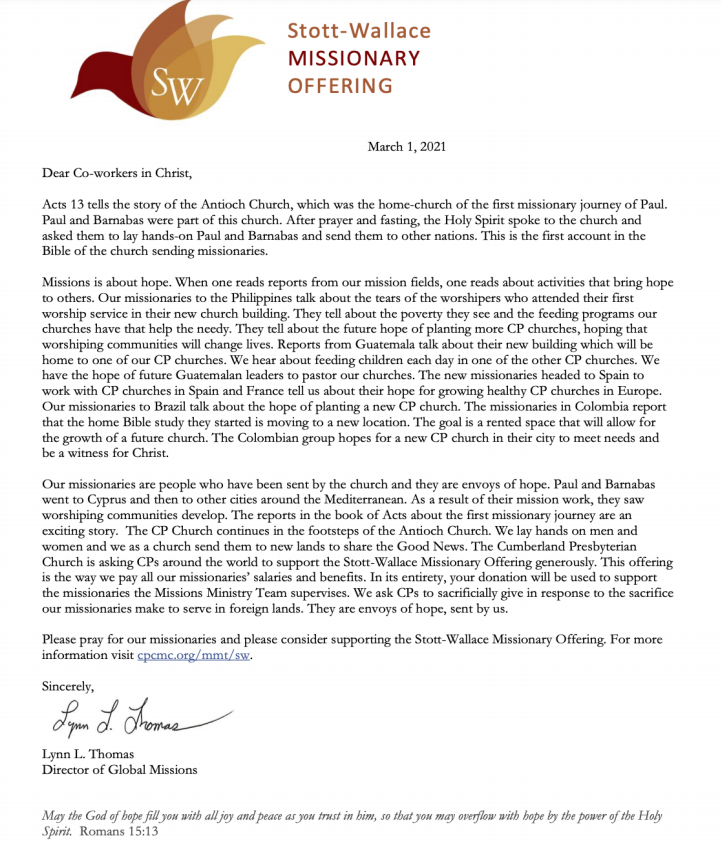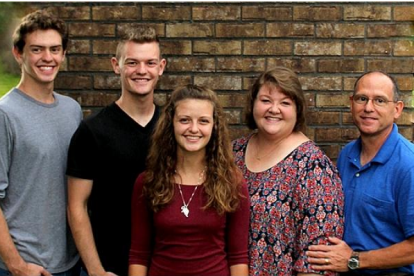 Your Birthday Gift to Jesus provided $500 to The Hopson
Family's ministry in Uganda
Kenneth and Delight Hopson are Cumberland Presbyterian missionaries in
Uganda. The Hopsons are part of the St. Timothy CPC family and this church supports their ministry. Read what Kenneth and Delight are doing here and visit their website for more a more detailed report on their ministry: https://www.wgm.org/missionary/hopson
Kenneth: I cannot thank God enough for my life. Serving Him in Uganda is very
humbling, and I am beyond blessed to have that privilege. I owe Jesus my all, and I desire for my life to be a testimony of my devotion to Him. Serving in the printing ministry at The Print Shop is a thrill. Reaching many with God's written Word through discipleship materials and Bible studies and helping remote tribes learn how to read their own language is what it is all about! Not my will, Lord, but Yours be done.
Delight: I am so blessed to serve Jesus in Uganda. I have begun a new ministry called Delights—A Ministry Helping Ministries. God is allowing me to use my baking abilities to build relationships and to reach hearts and homes with baked items. All profits from the sales of the baked items help fund WGM Uganda ministries already established, such as Women's Cycle of Life, Island Orphan Ministries, and more. I love building relationships, and God is using this ministry to do just that. The Lord has opened doors for ministry, and I look forward to what He will continue to do through me.
Your Birthday Gift to Jesus provided $1,000 to The
Cumberland Presbyterian Children's Home
In addition the St. Timothy CPW is contributing 2,000 for a total $3,000
contribution to this ministry!
From the Cumberland Children's Home website: https://www.cpch.org:
In response to Christ's love and example, we serve children and families by
providing healing and hope.
CPCH is one agency with interrelated services:
Residential Care for Youth in Foster Care
Emergency Shelter Services
Adolescent Child Care Services
Treatment Services
Family Residential Program for Vulnerable Single Parent Families
At Cumberland Presbyterian Children's Home, we focus on keeping kids safe
and families together. We strive to break the cycles of trauma, neglect, abuse,
abandonment, family violence and poverty. We work to ensure residents feel
empowered to believe new beginnings are possible

Your Birthday Gift to Jesus provided $1,000 to North East
Emergency Distribution
From NEED's Website: https://needdfw.org:
North East Emergency Distribution is a community supported non-profit agency.We are blessed by support from area churches, individuals, businesses, grants and proceeds from our Twice Blessed Resale Shop.
Each of our applicants is valued. We make referrals to social service agencies,
offer supplemental services for seniors, assist with Texas Electric utility bills, provide the unemployed with clothing suitable for a job interview, and in some cases provide transportation assistance.
Since 1986, our community of faith-based volunteers continues to grow. We
served nearly 20,000 individuals during 2018 in 13 surrounding Northeast Tarrant County zip codes. Over 90% of our volunteers come from Northeast Tarrant County churches. Funding is provided through donations from churches and businesses, grants, and generous community supporters. NEED is focused on keeping our overhead low, and we successfully minimize waste, fraud and abuse through a rigorous screening process of all applicants.
We serve the poor, one loaf of bread at a time. One bag of pinto beans. One
clean shirt and new pair of socks. One smile, one prayer. One Texas Electric bill
marked "paid". One bus voucher.

Your Birthday Gift to Jesus provided $1,000 to 6 Stones
6 Stones has a rich history of serving the HEB area and the session of
St. Timothy is excited about the collaborative ministry opportunities this ministry offers. 6 Stones provides so many services that it is easier to just visit their website, https://www.6stones.org for a more complete picture of their service to our community. They also offer tours for those who are interested. To participate in a tour, simply reach out to Pastor Dave. On the next page is a letter written in 2019 by Jennifer Leney, Executive Director of 6 Stones.